If the absence of words on any occasion can sadden anyone, the right words hold the power to make up for it. And if its about your teacher, then you do need to come up with special belated birthday wishes. After the parent's, its the teacher who shape our beliefs and our career. Their impact is lifelong and therefore giving them due respect should be the priority of every student.
While you may not have been able to wish them on time, you can still come up with even better messages with our belated birthday wishes for teacher that we have specially crafted. So without any further delay, lets move onto the wishes which are sincere and funny also.
Sincere Late Birthday Wishes for Teacher
The birthday message was completed three days ago. The refinment and correction took another three days! As you said, first impression matters. Kidding! Here is my birthday wish to you, a belated one though!
Doing some things in a different way is so much better than not doing them at all. And hence writing this belated wish to you.
A student who is synonymous with the word "Late" for everything, needs to live up to his reputation and hence it would only make sense to wish a belated birthday!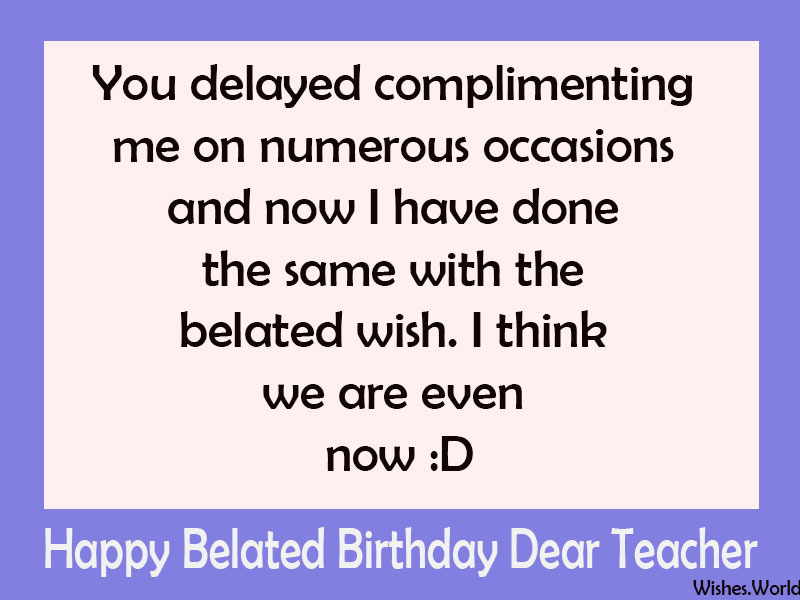 You delayed complimenting me on numerous occasions and now I have done the same with the belated wish. I think we are even now 😀
Dear Mam! Our wishes may be belated. But your blessings have been and will always be timely for us students. A very belated happy birthday to you!
Good things always arrive to people, even if they are late.
The principal sir may be the official leader of the school but you are definitely the unofficial one. Happy Belated birthday to you!
The wish may be arriving late but your promise of no homework for the weekend will be timely I hope.
There are times when the divine bless us with more than we deserve like you got amazing student in the form of me.
What is more special than your birthday? A belated one for sure.
Ironic but True. Just like every good things in life, these birthday wishes are arriving late too. Happy Belated one!
My Wishes might not be on time this time but I hope your salary and promotion will be.
Hello Teacher! You didn't hear from your student on your birthday due to some technical issue. The brain was engaged in your homework assignment.
Happy special belated one to an amazing teacher who never discloses my mistakes during the parent's teacher meet. May it always stays the same.
Hello Teacher! As someone has rightly said, it may be a late one but certainly not a fake one.
Dear Sir! The wishes may have been delayed but my improvement in the academic performance will not be.
I pray to the Almighty to bring all of your wishes come true, except the illegal ones ofcourse!
Teachers Birthday Funny Belated Wishes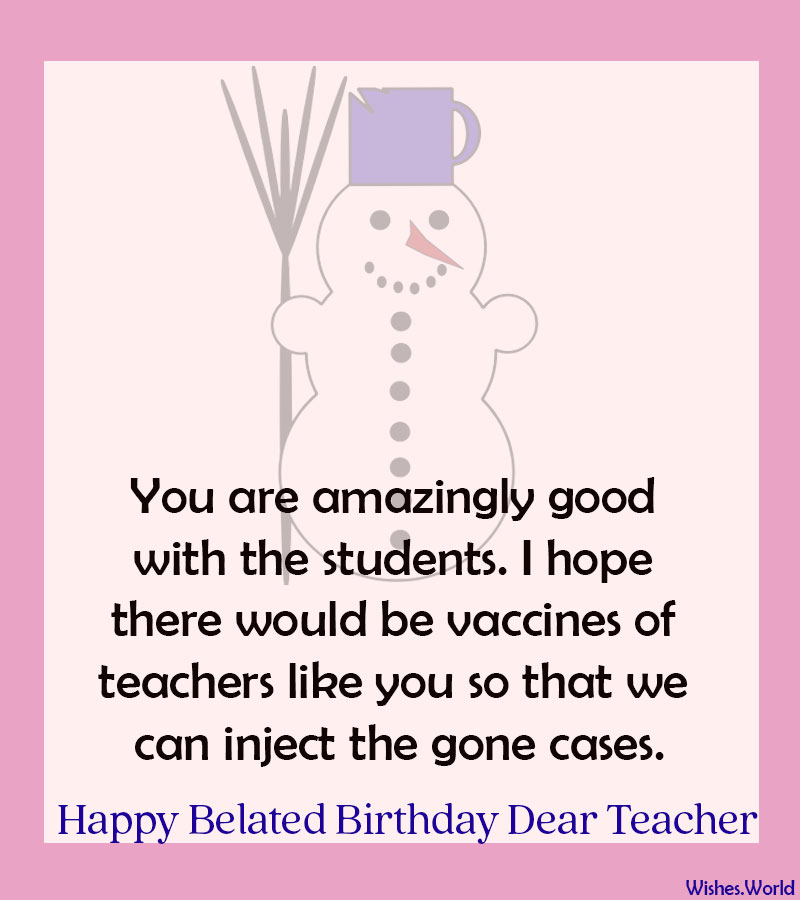 You are amazingly good with the students. I hope there would be vaccines of teachers like you so that we can inject the dramatic ones.
I dreamt last night of messaging my teacher after the birthday had gone by. And now doing the same. Who said that dreams don't come true!
Before you assume this message is a late one, please know that I am wishing you for your coming birthday in exactly 364 days.
Legends have said that even the late birthday messages are better than no wishes at all. That Legend was burried soon by his wife. Happy Belated dear Teacher!
A belated birthday to the special teacher of whom even my Dad is scared of!
I hope this late wishing will not penalize me in the form of strict answersheet checking!
May the divine bless you with unlimited patience for tolerating a student like me.
The scare of receiving your scolding in case of timely completion of the homework assignment was more than the desire of writing a timely special birthday message for you. Here is the belated one for you.
Sir! Do you know what is more special than a birthday? A belated one for sure!
Dear Mam! I don't wish belated birthday. I wish Happy Birthday Week!
Having you as our invigilator is the ideal scenario that we students are praying for. Happy Belated one to an awesome teacher!
For the one, who doesn't remember his birthday, it's pretty amazing to remember the belated birthday of the teacher. You must be something special.
Your teaching has compelled other teachers to raise their standard, a feat that our principal and coordinator wasn't able to achieve.
A very Belated happy Birthday to the teacher who is always belated in giving scoldings, criticisms and everything that makes us students sad. May there be more Teachers like you in this world.
For the first time in my life, I am warning a teacher, to remind me of the birthday 3 days before.
You once said that important people often arrives late. So here is my late birthday message for you.
I am sure your birthday was far better than the
A wonderful belated birthday to the only teacher who I preferred to get scolded by in the college.
They say that the last wish is always remembered. I hope my wish is certainly the last one. Happy Belated dear teacher!
A wise man had once said that the sincerity of the birthday wish is directly proportional to its late arrival. That wise man is ofcourse your wonderful student, me.
May ageing and every problem be always belated for you for the infinite time period. Happy Belated one dear teacher!
Sorry for the delayed transmission of Belated Birthday Wishes. The weather is isn't upto the mark but I am glad that the wishes landed safely.
Dear Teacher! You always loved surprises don't you! So here are the advanced wishes for you on this birthday for the next year. Happy Belated one for this year though!