Its no brainer that Physics is one of the core elements of life. The people who study the subject at higher level often contribute to the well-being of the society. This is why Physics teacher are often reverred with great respect. Not only they make the subject interesting but also arouse the child-like curiosity which usually diminishes away as we grow. Needless to say, your Physics teacher needs to be greeted with special words on their birthday.
This post has plenty of birthday wishes for Physics teacher. From short and simple to funny, these stand-out birthday wishes will get the attention of your teacher or Professor. So let's get started.
Thank you for being amazingly good at matching with the frequency and wavelength of the student's thought process.
To anyone who thinks that Physics is a nightmare, I highly recommend your name to bust this myth.
Its obvious that when the Almighty was creating our Physics teacher, he took a lot of time and consideration.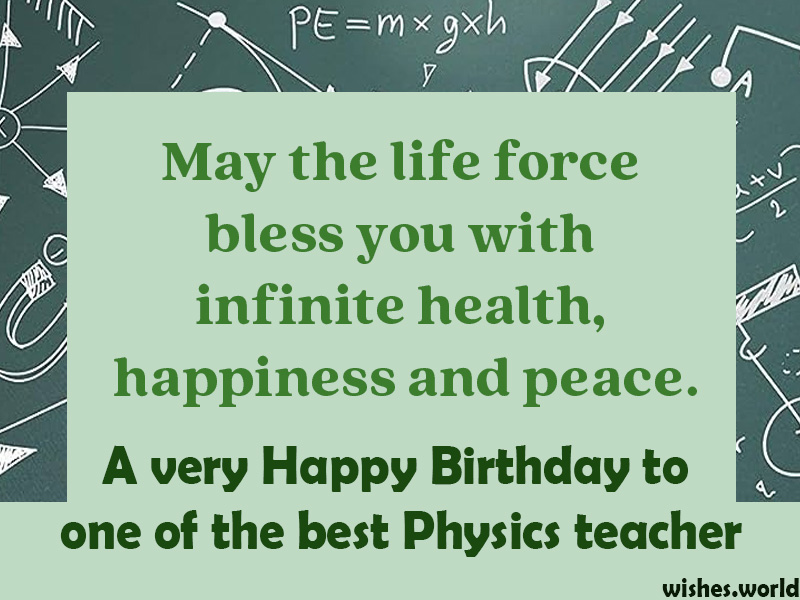 May the life force bless you with infinite health, happiness and peace. A very happy birthday to one of the best Physics teacher.
I wish you a heavy mass of prosperity for life. I pray that the displacement of sadness always be far away from you. And may the happiness, success and health always accelerate in your life.
Allow me to give you a photon filled Happy Birthday. Let your day be showered with waves and particles in the form of blessings all over.
Seeing your proficiency in speed, velocity and acceleration, teachers like you should be consulted by Formula One Drivers. No kidding!
For some reason, teaching physics slows down the passage of time and hence you remain ageless. I wish it remains the same forever. Happy Birthday Sir!
Dear Mam. If you were Newton in any one of your past lifetimes, I would not be surprised at all.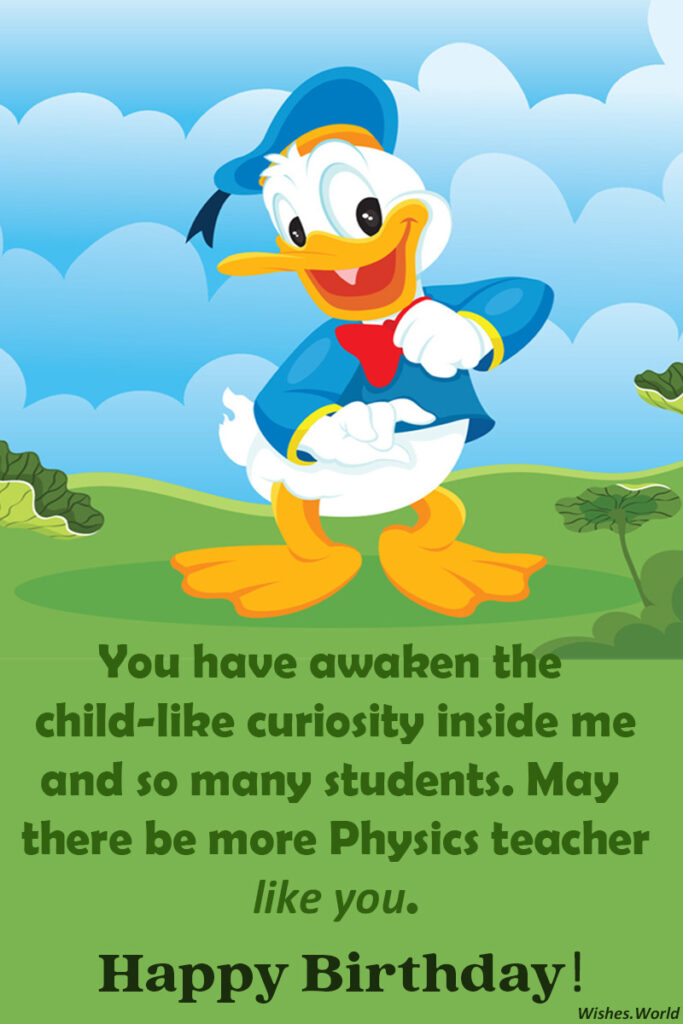 You have awaken the child-like curiosity inside me and so many students. May there be more Physics teacher like you.
Thanks for teaching me to see beyond the visible spectrum. I now have more self-confidence.
You are perfect at integration of all the good qualities in a student which makes him or her believe in themselves.
You are like the dual nature of electron. Inspiring and yet strict, hard working and yet calm.
May the sinusodial waves of your life always be in harmony.
You are the perfect conductor for us students as your positivity and persistence is contagious.
This University is extremely grateful to have you as the Physics teacher. I wish there be more Professors like you.
You are the front-liner who motivates young minds to pursue Physics at higher level and eventually contribute to the society.
Somethings in life are the blessings of the divine like we students have a passionate and knowledgable Physics professor like you.
Short Birthday Wishes for Physics Teacher
I wish Physics classes be longer than what they are now. That's how good you are.
If God would ever want to make a new law in future, he sure as might collaborate with you.
You are the perfect catalyst for every student not only for studies but for growth in every sphere of life.
If the subject of Physics ever need an ambassador, you would be the perfect one.
Thank you for instilling in me that where there is a will, there will always be a way!
A very Happy Birthday to the teacher who taught me how to balance all sorts of forces in our life.
If there will be an Oscar for the Physics teacher, you will surely get nominated at least!
Having seen you teach Physics, my parents wish they too had a Physics teacher like you.
Funny Birthday wishes for Physics Teacher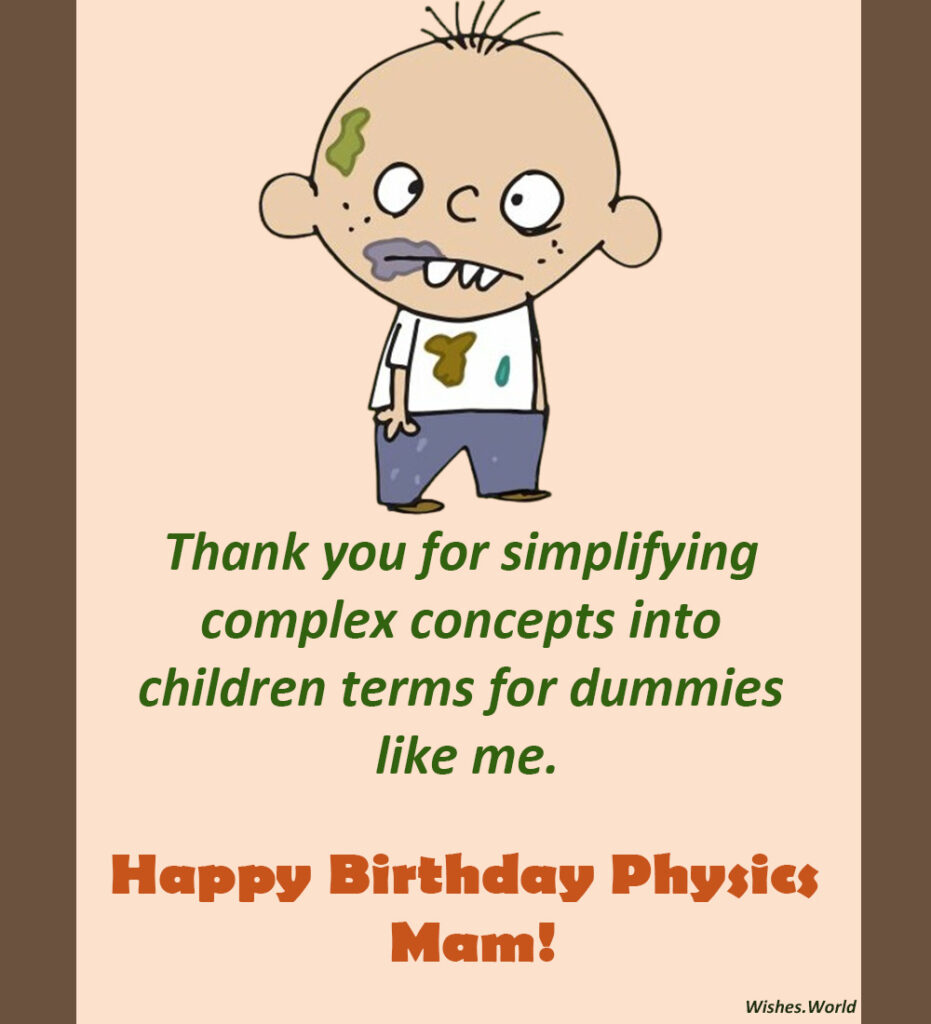 Thank you for simplifying complex concepts into layman terms for dummies like me.
Happy Birthday to the forever young teacher of whom the Law of Gravity fears.
Thank you for hiding some of my faults from my parents. May God give you everything.
I wish the University renews your contract with 100% increment.
Dear Sir. The subject may be theoritical but the fun is certainly real.
Physics tell me that the Universe is always expanding. I wonder how come the same is not happening with my brain!!
On this birthday, I request you to consider making a formula that can measure the force of laziness.
This subject has raised my tolerance for headache. Now I can bear my sibling's stupid talks and still not loose my mind.
A wise man had once said that women love Physics Professors because they are good at accelerating the force of attraction.
Physics taught me that time flew by when I date a girl way out of my league whereas a night of exam preparation seems like a week.
Dear Sir. You have always motivated me to study harder. Allow me to reciprocate the favour by letting you know how to party harder.
May you have a contract with this University for atleast 7 lifetimes.
You have given me a serious addiction. Its called PhysicsGasm.
You ingrained the Newton's third law in my subconscious. Now I easily retaliate with equality with my notorious cousins whenever it is needed.
Scoldingless, criticismless at parent's teacher meet, always smiling, charm and charismatic. What more a student could ask for from a teacher! Happy Birthday Sir!
God didn't applied the laws of Physics while making you as your brain have a voracious appetite for the subject.
Being such a pro in Physics teaching, you deserve a week off to enjoy. Happy Birthday!
Of all the teachers in the University, I prefer to get caught red-handed and be scolded by you in Physics terminology.
As much as I love studying Physics from you, I request you on this birthday to be lenient while preparing the semester paper for us mortal students.