Naughty Dirty Birthday Wishes: Its not everyday that you require dirty birthday messages for someone. But when you do, you want them to be artistic and not overly expressive. We have crafted some special naughty messages in this post.
For Her (Girlfriend, Wife, Friends with Benefits)
Despite being together for so many years, I still fantasize about you.
Think of what I would be doing to you after we meet tonight.
It's been so many years, it's amazing how you still feel like a virgin. Gonna deflower you like never before.
May your partner flood you with multiple Os tonight.
The lion is hungry tonight!
Gonna put the wine on the most erogenous parts of your body and then slurpee it.
Can't wait to enter you from all places!
If you get love bites tonight, don't blame your partner.
Your vertical lips are even sexier than your horizontal lips.
It's the night when I am gonna explore every inch of your body!
I love the weight distribution in your body. Perfect at the required places.
Thirsty for your juices, babe!
I have been warming up for this day. Gonna blow your mind.
Keep a cloth ready in case your screams go out of control.
Can only say that you won't be able to walk tomorrow.
To say that I want you, is an understatement for tonight!
Gonna make you moan and scream.
Keep plenty of tissues, lube and toys ready!
Preparing to explode tonight!
Ever since I met you, I was wishing for this day to come.
No need for dinner because I am gonna eat you tonight.
For Him (Husband, Boyfriend, Friends with Benefits)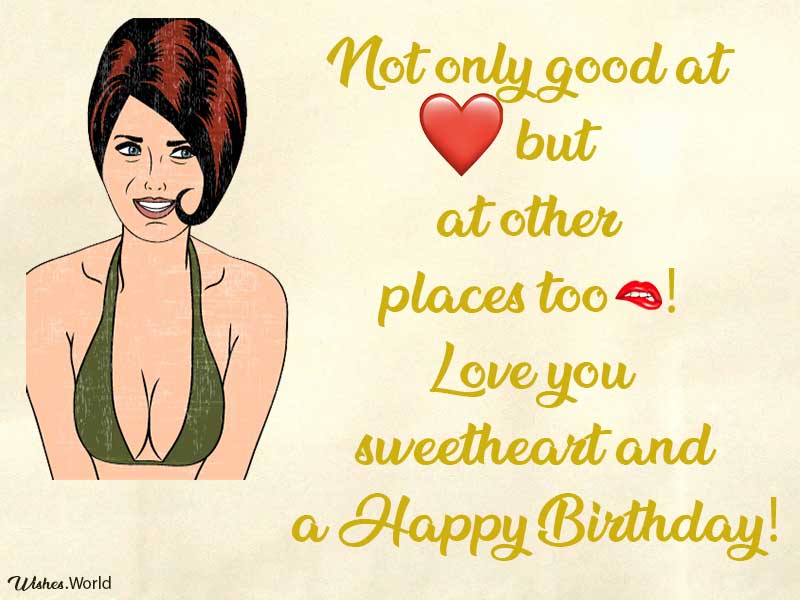 Not only good at heart but at other places too! Love you sweetheart!
Yearning to quiver with your thrusts tonight!
May tonight prolong forever!
Gonna suck the life force out of you on this birthday if you know what I mean.
I am wearing the sexiest lingerie for it to be torn apart brutally tonight!
You are the sexiest pervert man that I crave for!
I can't wait to show you my sluttiest avatar on this birthday.
I hope your guy picks you up and pushes you across the wall.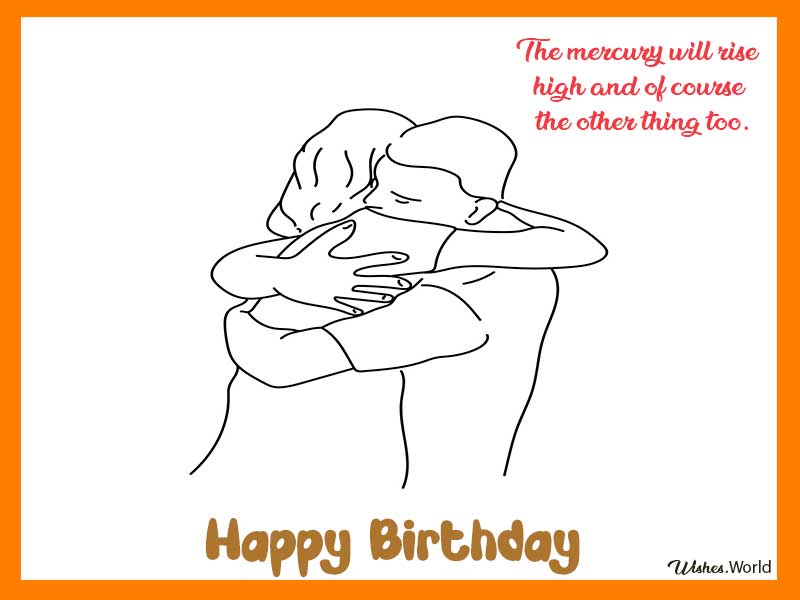 Gonna hug you so tight that not even air would come between us.
The mercury will rise high and of course the other thing too.
I hope you will keep my mouth shut for the whole night!
Desperately waiting to be manhandled by you.
Soft as a silk, and pretty as hell tonight. Only for you.
Not going for any facial as I will be getting plenty from you tonight!
My ovaries are yearning for you!
It will be Sexathon for sure!
Your age is in reverse mode, and I am the reason, if you know what I mean. Love you!
Wishing that you will last really loonggggggg tonight!
Ensure that the doors and windows won't let the noise out.
Dark is sexy if you know what I mean.
The birthday is yours but I would be the one receiving pleasure.
It's wet down here and you are the reason.
The surprise will blow your mind. Can't wait to do it!
Gonna make it difficult for you and your down guy to handle my prettiness and sexiness tonight.
For Brothers, Sisters & Friends
Break the bed but not your back.
Love is certainly in the air, and your body too would be tonight.
Don't chew and ache your mouth as there will be plenty of action tonight.