Unity is a power that can overcome the biggest of obstacles in life. History has shown that when people are united for a cause, they have been able to bring revolution which has changed the course of their generation. The day 31st October was nominated for National Unity Day in 2014 by the Government of India.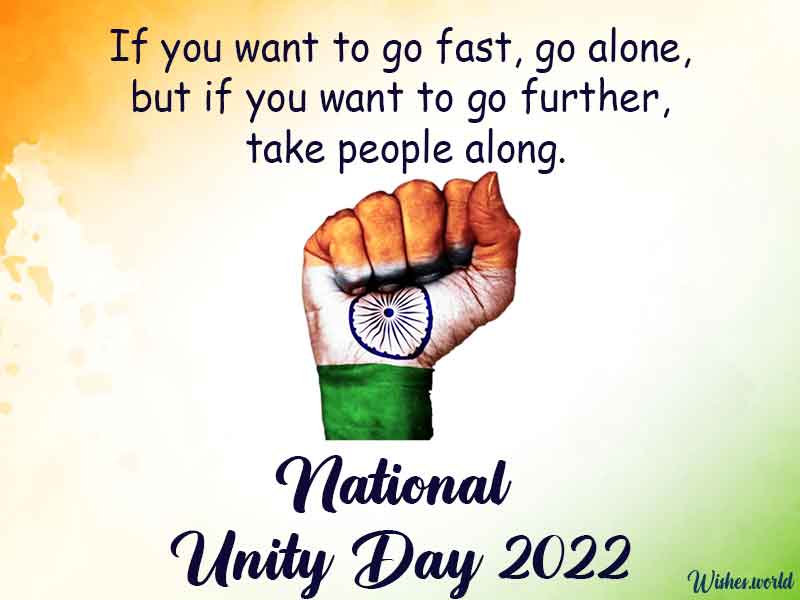 If you want to go fast, go alone, but if you want to go further, take people along.
The best things in life are usually the ones which can be shared amongst others.
If you believe, you can always.
Success feels Euphoria and defeat serves lessons when there is unity within the group.
Unity is the force that can topple even the most powerful government and organization in the world.
The best companions in this world are often within our family and relatives. May your relations remain alive full of warmth.
Sometimes, we realize the value of things when they are no longer with us. May it never happen to you. Happy National Unity Day!
This 21st century is ours. Let us make India proud. Jai Hind!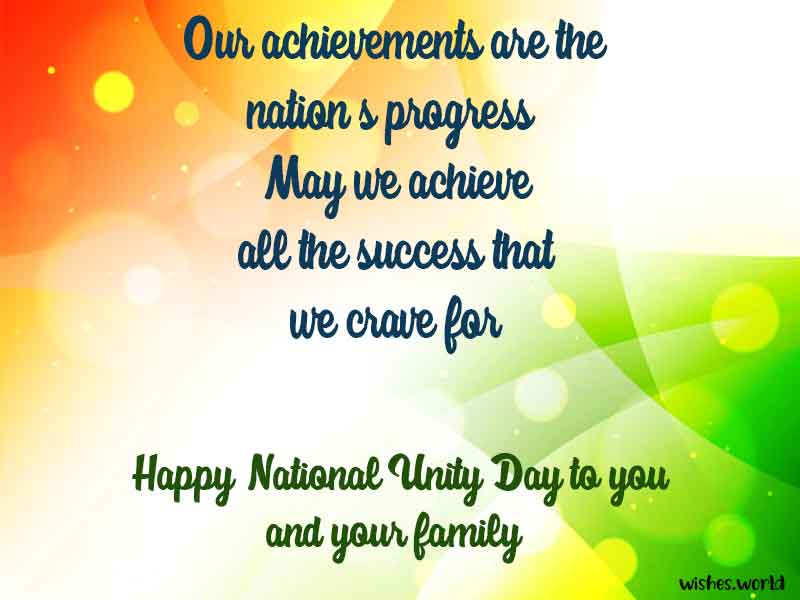 Our achievements are the nation's progress. May we achieve all the success that we crave.
Obstacles can overcome anything except unity.
Your Well-wishers will always be with you, no matter how far they are.
Spreading joy elevates happiness while spreading sorrow decreases it. Happy National Unity Day!
We may argue, we may fight, but there is always oneness in diversity. May you accomplish all the success in life that you desire.
A mission will always succeed when it has like-minded people putting their heart and energy into it.
We may have different languages, color,s and traditions but we are more than that. We are Indians! Happy National Unity Day!
Funny Unity Wishes 2022
Unity allows you to occasional vent out anger which you rarely can do to a stranger unless you want to get your face smacked.
Some amount of Ego is also necessary. Otherwise too much unity will make you forget about your own goals.
Sometimes, it is Ok to get your behind kicked just because someone in your group did some silly mistake.