Families that are blessed with the Khala Jaan are the luckiest families in the world. The children get to learn so much from them and they also receive the motherly like love, tender and care from their Khala Jaan. While your Khala may not be your real mother, but she will do everything to treat her nephew and niece like her own children. After the mother, she is the one who is capable of forging a great bond with the nephew and niece and this is why when the birthday of Khala comes, she does expect a sincere and heartfelt birthday wish from the nephew and niece. And that's what this post is all about. Here all the wishes are unique and reading them will surely make your Khala teary eye. So lets get started.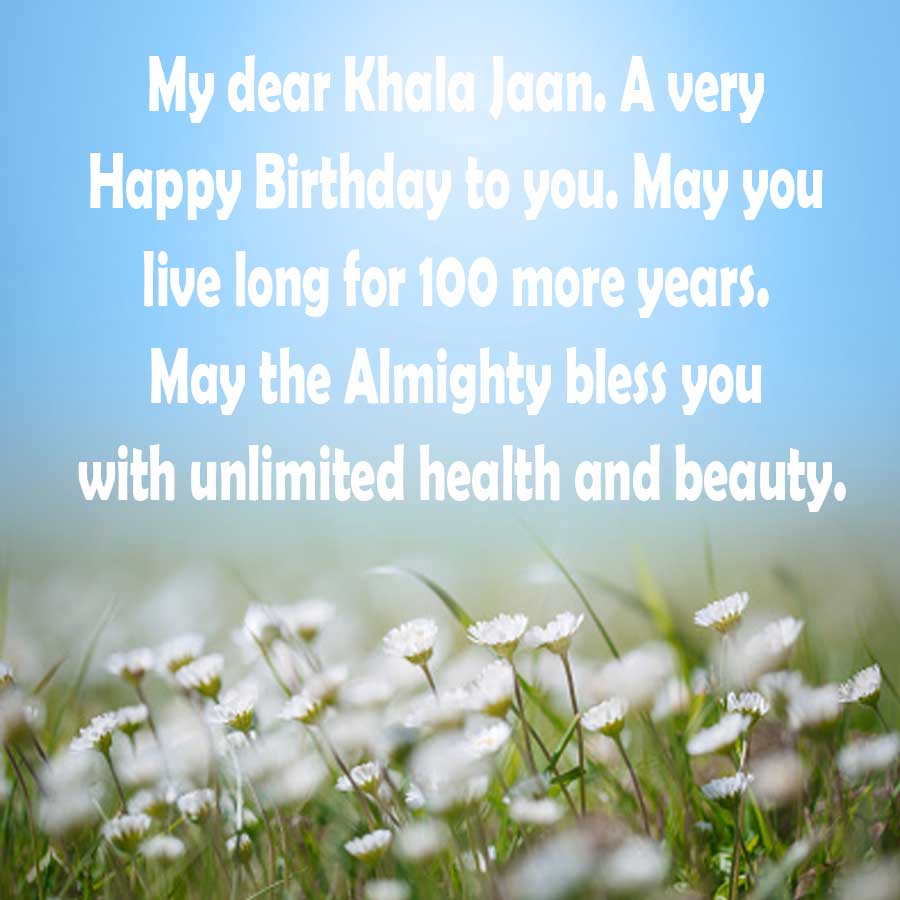 God has blessed me with two mothers. I am lucky to have Khala in my life who treats me like her child. May the divine blesses you with all the happiness in the world.
Your influence has been great upon me. Your blessings have inspired me. May it continues in the future.
The perfect Khala in the world exists and it is surely my Khala. Happy Birthday, dear!
You may be my Khala but you certainly have a motherly touch and we are lucky to have someone like you.
Dear Khala. We may not agree on many things but your wisdom, and blessings will always be upon us.
Warm, kind, sweet, and gracious. That's what Khala is for me. I wish there be more Khalas like you in this world.
You are not only my Khala but more than a family to me. I love you from the bottom of my heart.
Khala, you are as loving as my mother. And I am so blessed by Allah that he gave me a lovely aunt like you. May you always be happy and smiling.
Of all my Khalas, you are definitely the best one. I wish you live for more than a hundred years.
Even though my Khala scolds me a lot, she is a good aunty always. I wish you happiness always and lots of blessings from the great Allah.
The best Khala in the world. Happy Birthday to a wonderful woman who has always treated me like her own children. I wish Allah to give you what you want.
No matter how much you scold me, I will always irritate you my Khala whenever I get a chance because you are the only one with whom I can be bubbly.
My dear Khala Jaan. A very Happy Birthday to you. May you live long for 100 more years. May the Almighty bless you with unlimited health and beauty.
I must have done some amazing deeds in my previous life to have been blessed by such a wonderful Khala. I wish you be my aunt for all the next lifetimes also. May you achieve everything that your heart desires. Happy Birthday, Aapko!
Mothers are always enough to take care of their children. But sometimes they can need help of very loving and trustable person and this is why he has given us dear auntie! A lot of our childhood antics and tantrums have been bored by you dear Khala! And now I realize what a valuable contribution someone like you has in our family. Thanks for always being there. A very Happy Birthday to you!
Sometimes, we do not realize the value of something unless we imagine how life would be without them. The same is you, my dear Khala! Our life's happiness cannot even be imagined without you. I am thankful to Allah that he has given us you as our lovely aunt. All the best for your future. I pray all your dreams and desires come to fruition.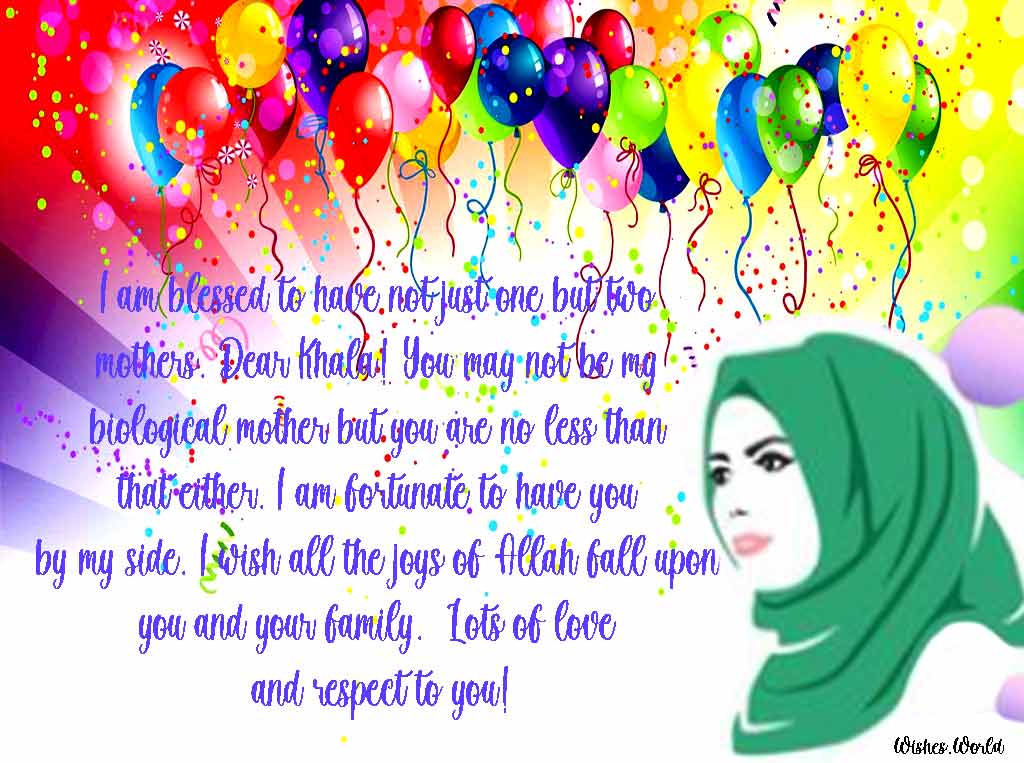 I am blessed to have not just one but two mothers. Dear Khala! You may not be my biological mother but you are no less than that either. I am fortunate to have you by my side. I wish all the joys of Allah fall upon you and your family. Lots of love and respect to you!
I wonder how life would have turned out if it was not without my lovely aunt. You are the joy that has illuminated our lives with her charm, blessings and happiness and me, abba and ammi jaan wish the same for you too. I hope there be more Khalas in the world like you for a peaceful place. Happy Birthday Khala!
I wish to go back to Childhood so that I can still play in the arms of my lovely aunt who blessed me with so much love, tenderness, and care. May all the khalas in the world be like you, dear. On behalf of me, Ammi and abbu, I wish you the best happy birthday today.
Dear! You have not only been my good aunt but also my mentor, confidant, and friend with whom I can share sometimes my sorrows. On your birthday, I want to make you realize how lucky I am to have you in my life. I feel Allah has rewarded me for some great work in my previous life and that's why I got you as my aunt in this lifetime. Your health, happiness, and awesomeness for life. May you always keep smiling forever. Happy Birthday to you!
When Allah was creating my aunt, he took a lot of time. He ensured that she would be beautiful, caring, smart, healthy and more importantly will have a kind and helpful heart. I wish all the aunties in the world be like you Khala. Here to you a very happy birthday. May you live for thousands of years.
People say that when Allah is by your side, no obstacle in life can stop you from achieving your dreams. While that is true, I also believe that when someone like your Khala blesses you for all your dreams, then no dream can be impossible to achieve. I am one lucky individual who has the support of my aunt. And today is her birthday. All the happiness and luck for you my dear aunt. Happy Birthday and lots of love.
Dear Aunt! May your life be like a colorful rainbow with varied colors of happiness, gratitude, health, and well-being. I am sure you will go on living a wonderful and healthy life. Happy Birthday, Dear Auntie!
Hilarious Khala Happy birthday Message
Dear Aunt! It won't be too long that you will reach the age when I will be babysitting you like you used to do me when I was a toddler. I wish that day be very far away from now and I hope you remain fit and healthy for the next 1000 years of your life. Happy Birthday to you dear!
It is amazing to see what my dear aunt cannot do. She scolds well, she guides and allows us to share their thought process. She also cooks very well. And we very well are coming tonight to wish her and eat delicious food prepared by her. Haha!! Happy Birthday, dear!
I wish ammi can learn some skills from our wonderful Khala on how to scold their children properly. Ammi can also learn some culinary skills from her as she is bestowed by Allah with amazing skills. And today is her birthday and we wish all the very best. May you keep smiling like a charming young lady.
My mother may not have absorbed many things from our Khala, but she certainly learnt an important thing about how to stay younger and charming. And she does that by lying through her teeth. Haha! Happy Birthday to our gorgeous Auntie!
There has to be someone in life that needs to keep us on our toes. For me, that one person is not in my family, but she is my khala. She is of course more than a family and I wish she is less intimidating than she is. But auntie is extremely good at heart and wishes only for our well-being and success. I wish there be more aunties like her in every family. Today is her happy birthday and I can be sure that she will not be in a stricter mood today.
You can get less scolding and beating from your Ammi and Abbu if a lot of your mistakes can be covered up by a trustable person. And for me, that person will always be my Khala. Thank you Dear Aunt for saving me from so many beatings. I will always owe you for that.
Some of the finest cousins in the world can only come to you because of your aunt! Thank you dear aunt for popping them out. I hope you pop some more in the future too. I wish you tons of happy birthday love and kisses.