Karwa Chauth is the time when the wife keeps a fast for the husband. It is a Hindu tradition and there are beliefs that doing fasting is a prayer that keeps adds years to the life of the husband. While the Husband and Wife share a great level of comfort, special messages on special occasions like Karwa Chauth 2022 is a great way to make your spouse happy. We are presenting some amazing Karwa Chauth wishes for you including some funny ones too.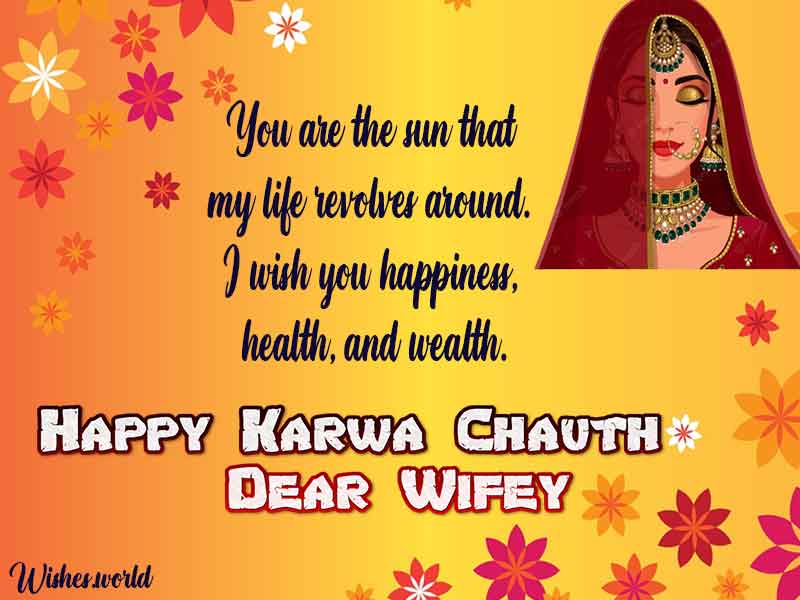 You are the sun that my life revolves around. I wish you happiness, health, and wealth.
Dear Wifey! There is nothing in this world that makes me more alive than seeing you happy and healthy. May every husband gets a wifey like you. Happy Karwa Chauth sweetheart!
We may fight and argue at times but our love for each other will always overpower our disagreements. Happy Karwa Chauth my pretty wife.
Even after so many years of marriage, it is difficult to keep my hands off you. Love you to the core my darling.
Sometimes God give us more than what we deserve like he bestowed you in my life.
I can only pray that the Almighty makes fasting easier for you my gorgeous wife.
You are the key pillar in the success of our family. Happy Karwa Chauth!
May your beauty be everlasting like the brightness of the sun. Lots of love!
You coming into my life could have only happened by the blessings of the Almighty. It's amazing the way you take care of our family. I couldn't happier without you. Happy Karwa Chauth!
Funny Karwa Chauth Wishes for Wife 2022
I may keep quiet during our disagreements. This is because you appear even more gorgeous while arguing. Lots of love!
I know you are fasting for me today. But I know tomorrow I will have to compensate it by wining and dining you at a fine restaurant. Happy Karwa Chauth Darling!
I may not be with you this time but you only occupy my thoughts at night, if you know what I mean.
Dear wifey! Thank you for transforming a hobbit-like husband into a decent-looking man. You are amazing!