Human Resources are probably the most vital part of an organization. While having the talent and skills in an employee is necessary, temperament and emotional quotient are the biggest factors that drive an organization to major success. And HRs aim to maintain a coherent, peaceful, and at the same time, an enthusiastic environment that ensures productivity and happiness of the employees. Needless to say, if today is the birthday of your HR Manager, both Sir or Mam, then you have a dozen reasons to give them a sincere birthday wish.
Doesn't matter what designation or position you hold in any organization, sincere wishes to HR on their birthday make them worthy, important & an integral part of any organization. In this post, we have plenty of messages and Images that you can give to HR on their awesome birthday. Do share these with them. It will absolutely make their day.
You have been amazing to us in challenging scenarios. We sincerely wish all the best for you. Happy Birthday!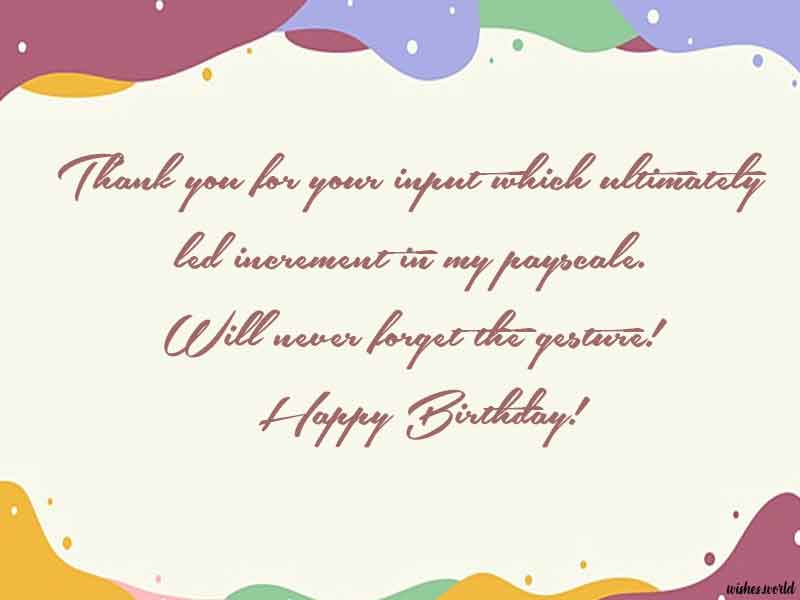 Thank you for your input which ultimately led increment in my payscale. Will never forget the gesture! Happy Birthday!
While our CEO and leader may set the vision, it is people like you who motivate us to transform that into reality. I wish every organization has a leader like you. A very happy birthday to you!
We may not be the best talent for the work but you surely knows how to get the best out of us. Wishing you all the success in the world.
You taught me the most important lesson that clear communication and egoless talks are the way to move ahead in corporate ladder. I will be forever grateful for teaching me such valuable lesson.
It is amazing how one single person can inspire hundreds of others to work hard consistently. Happy Birthday Dear Sir!
Happy Birthday to our HR mam who always works hard but never complains.
You have always shown that hard work and consistency get rewarded. I am so happy that someone like you has ears to our problems every time.
You are a true HR who always think about the welfare of the employees without they even asking for it. Happy Birthday!
You always ensure that we employees have a lively atmosphere so that we can work hard with enthusiasm. I wish you a wonderful birthday.
May every organization have an HR like you Sir. You are wonderful beyond measure.
Much thank you to HR mam for granting us leave without causing any trouble. May you keep doing the same in future too.
A strong motivation for us to work hard has always been you as we never want to let you down. You are not only our HR but also an inspiring person. May every company have an HR like you. Happy Birthday to you!
We are blessed to be working under someone like you. May you always be here. Happy Birthday
I still remember the day when you recruited me for this company. I will always owe you a nice treat for what you did for me. Happy Birthday HR Mam.
Happy Birthday to wonderful HR Mam! You have been so supportive of our employees. It really makes us feel good that we have an encouraging lady like you on our staff. May all your dreams and wishes come true.
I have learned from our HR Mam what to say to a person at what time, and more importantly, what not to say at the particular time. Thank you HR Mam for teaching me those valuable skills. You have been more than helpful to me in my professional career. I wish all your dreams, and desires come to fruition. A very happy birthday.
Often employees forgot that a good negotiation from HR with management is crucial in order to approve the appraisal of an employee. I am thankful for everything that you have supported me over the years, not to forget the fact that you are actually a good human being also. On your birthday, I wish you thousands of good health wishes. May you live for 100 more years with health, joy, and prosperity.
As an employee, I couldn't have asked for any other HR other than you mam. You are kind, honest and transparent and your work ethic is absolutely admirable. I am sure you will go a long way in your professional career. Many many happy returns of the day to you HR Sir!
Many times, we do not feel the value of a person, until we face deep problems and they come and rescue us in those crucial moments. I will always be grateful to our HR Mam who has time and again shielded me from many lows of my professional work. Today is her birthday, and I wish her all a very happy birthday.
If our workspace is enlivening and enthusiastic, a lot of credit has to be given to our HR, who always ensure that employees like us enjoy the working atmosphere. Its hard to find organizations where there is so clear communication, honesty and transparency and a major credit goes to our HR for maintaining it. On her birthday, I wish her all the very best. May you achieve all your desires.
There were times when you supported me when I was not performing well. Such support system from HR these days is very rare and I feel gratitude to God that you are handling such sensible post in our organization.
There are always lots of things happening behind the scenes which employees don't get to know. That's when the Human Resource guys come into the picture. And I can say with full honesty that we as employees have never faced biasedness, racism, or depressing things. Our productivity can very well be attributed to our HR Sir who has been supportive of us. Thank you for your support and enthusiasm. I wish you a very happy birthday Sir. May you always stay with us in our organization.
Funny Birthday Wishes for HR Manager
You may not give a party today on your birthday. A small increment in my payscale would be more than enough. Happy Birthday to you!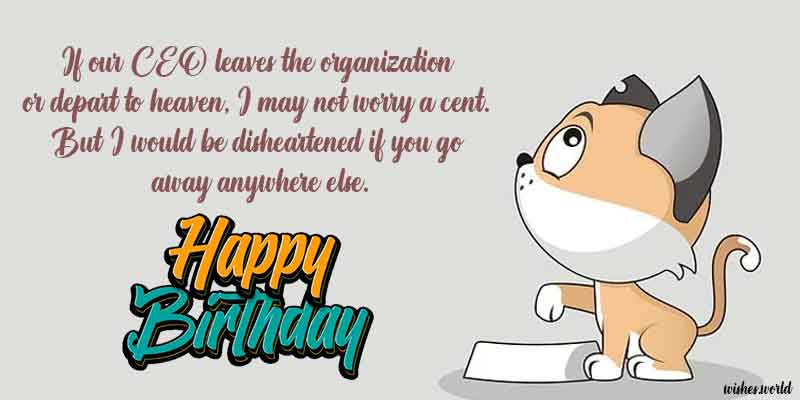 If our CEO leaves the organization or depart to heaven, I may not worry a cent. But I would be disheartened if you go away anywhere else. Happy Birthday!
Thank you for allowing me to take leaves when you know the real reasons behind them.
Thank you for always letting me know when and when not to approach our boss depending on the mood. You are handy in more ways than I could have asked for.
The most under rated happiness in life is when the HR grants you a leave with just your one email of request. I am happy that such HR works in my organization. A very Happy Birthday to him. May all the HRs in the world be like him.😊
Dear HR Sir / Mam. A very happy birthday to you. May this year, you get me a fantastic appraisal from the management. Because if you, I am going to get you a cheerful, lovely, and awesome gift because you are a wonderful HR and more importantly, a great human being. Happy Birthday to you once again.
I may not agree with your decisions regarding my professional criticism, although they are sweet and constructive always but I can always say with full honesty that you are unbiased and a nice person with a great work ethic. Happy Birthday to you Mam!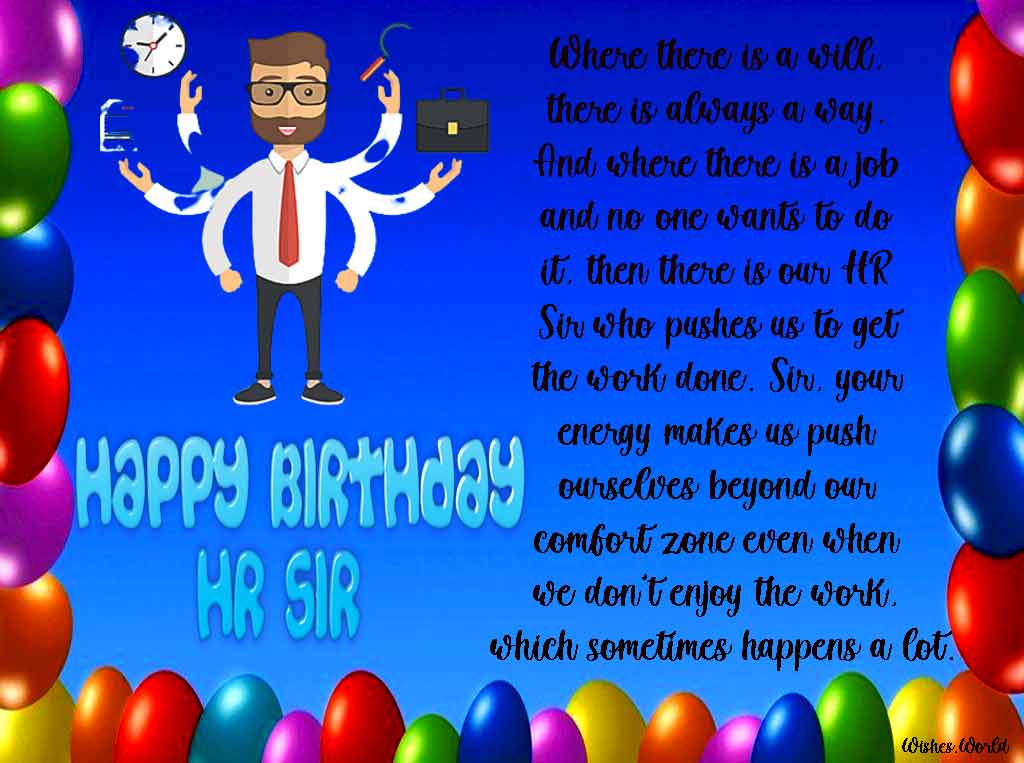 Where there is a will, there is always a way. And where there is a job and no one wants to do it, then there is our HR Sir who pushes us to get the work done. Sir, your energy makes us push ourselves beyond our comfort zone even when we don't enjoy the work, which sometimes happens a lot.🤣 A happy birthday to our HR Sir. You are great.
Happy Birthday to our wonderful MAM! Please try to arrange a grand party today in the office so that we employees can also feel a sigh of relief and enjoy the most. After all, the birthday of eminent people like you doesn't come every day 😂. Happy birthday once again.
A great deal of our dressing sense, styling, communication skills and etiquettes have come from our HR Mam, without her we would be comfortable in coming to the offices without even taking a shower. But not now. Thanks to you Mam for instilling this wonderful habit in us employees that makes take great care about our appearance.
Do you know if there were more HRs like you in organizations around the world, there would be less fight, gossips and hence very less entertainment 🤣. Its a joke obviously but that's how important people like you are to the betterment of organization. Today is your birthday and I wish you a magnificent party today in office, which obviously we are gonna enjoy a lot too.