Hygiene and cleanliness are of paramount importance for keeping a safe distance from germs. Washing hands is essential for not only eliminating germs but for helping us to feel good too. In view of the pandemic, keeping clean hands has now become extra essential these days. The world is celebrating Global Handwashing Day on 15th October and we have some awesome and funny wishes for this event which you can share with your near and dear ones.
Let your hands take a sigh of relief from the germs that reside on them often. Wash your hands after every meal. Happy Handwashing Day!
Just like you, your germs are also becoming more intelligent with the passage of time. May you keep them in check by washing your hands regularly!
It is rightly said that your life is in your hands. Keep them clean all the time.
A bad habit is hard to leave by. The saying is true for good habits also.
You can wash your mind with mental effort but you really have to wash your hands physically. Happy Global Handwashing Day!
A good person takes care of himself, both mentally as well as physically. Don't forget your hands. They often are involved in every activity you do.
The best way to recite a health affirmation is during a handwash. May you always be happy, healthy, and wealthy. Happy Global Handwashing Day!
Funny Global Handwashing Day 2022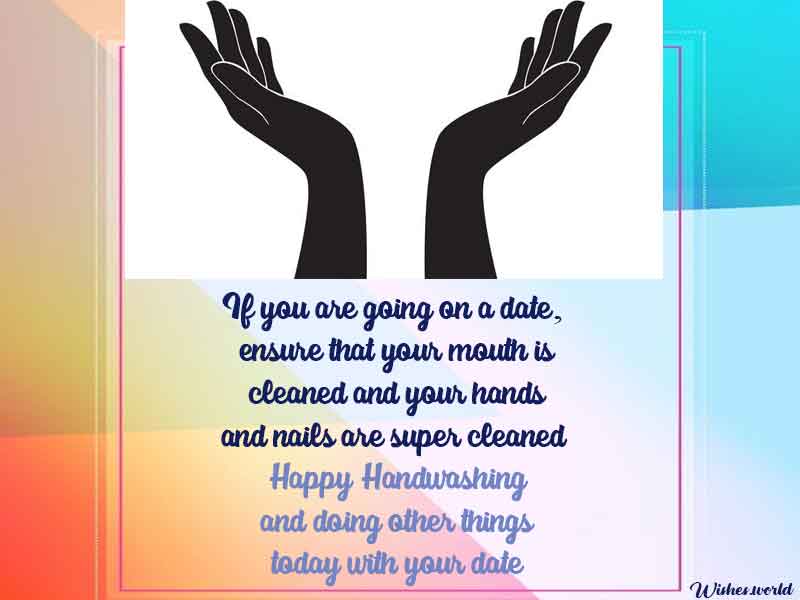 If you are going on a date, ensure that your mouth is cleaned and your hands and nails are super-cleaned. Happy Handwashing and doing other things today with your date.
If you are able to keep your hands neat freak all the time, then you are in the top 1% of people in this world.
May your wife never comes to know that you do not wash your hands after nature's call.
I understand there is rise in inflation but you can always afford a soap for regular handwashing.
If you can adopt the habit of hand washing, then you have taken the first step towards personal hygiene.
Not Washing hands before hitting your enemy can be the most satisfying thing for the ego. It is also the biggest contempt of love toward your partner.