The word Good Bye usually has a connotation for meeting again after a long time. But for short-duration away or for temporary farwells, you can always use casual and funny Good Byes that reflects your light-hearted personality and sense of humor. You can use Funny Words and sayings for a number of scenarios. We have crafted plenty of alternatives of Good Byes words that are creative and different.
Be humorous and creative to say Good Bye in a number of ways for different scenarios.
Funny Words for GoodBye
You will not have to remember me for sometime.
Over and Out.
Time really flies and now we should too, to our home ofcourse.
Sayonara
Hakuna Matata!
Ciao Ciao
Au Revoir
Auf Wiedersehen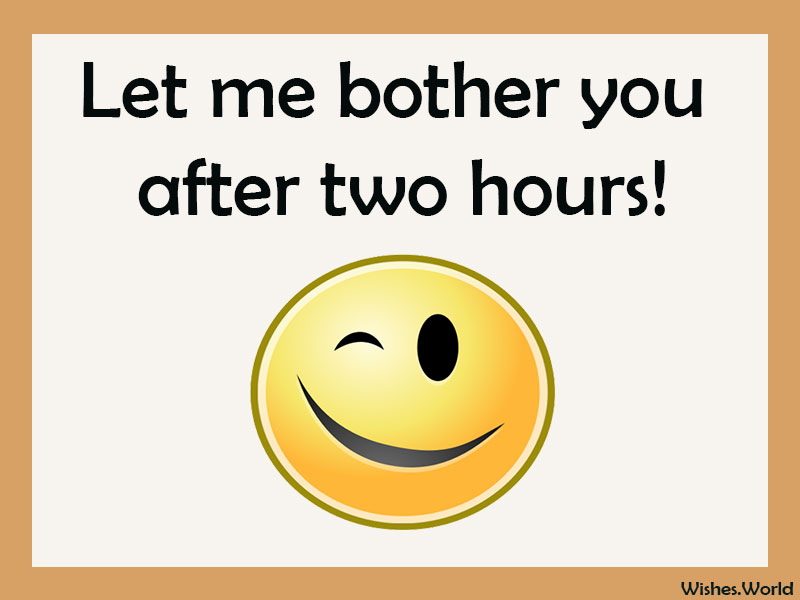 Let me bother you after two hours!
Chop Chop lollypop
Will see you when I see you again!
Prostate calls. Gotta get going!
You want me to hit home run for you to GO!
See you soon, Mr. Aligattor.
Bon Voyage!
See you soon GOAT (For making me laugh)!
Smell you later!
Don't get hit over!
Passing out now. See you when I woke up.
Cheerio!
Tolerate you later!
Be good and don't get caught!
I will return and then I will revenge. Till then all smiles and peace!
See you on the online world.
Now I will take a leave as I am about to fart all guns blazing!
Hilarious Good Bye Sayings to BoyFriend or GirlFriend
Spank you after two hours!
Better comeback with some awesome gifts and I don't mean a 3 hour s** marathon.
Let some mystery remains to unravel for the next meet!
I am leaving for few days but the boner will keep reminding you about me.
You have been so amazing than my mind could have ever expected.
Gonna stalk you on social media. Beware!
May your **x drive remains the same when I come back!
I will be visualizing you every night, naked ofcourse!
My private parts need good bye from you for the time being. Lol!
May your hands come to good use for the time being.
Unique Funny Temporary Good Bye Alternative Phrases to Co-workers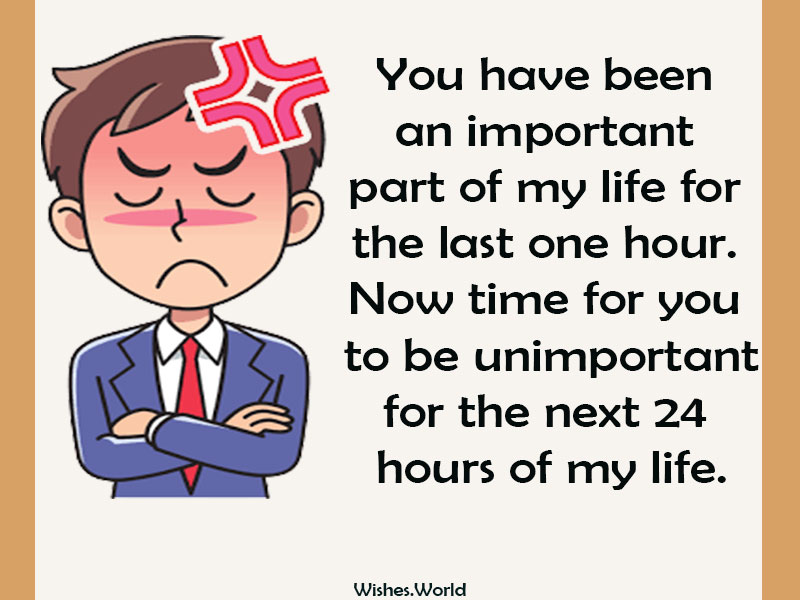 You have been an important part of my life for the last one hour. Now time for you to be unimportant for the next 24 hours of my life.
I will now let you go home to your wife.
Time to give each other a goodbye kick.
Lets rewind our pathetic work day now.
I think I have wiped off enough of your charming glow.
Let us both take a break before I lose my mind.
You have consumed all of my battery. Now go and let me recharge.
Lets get to know you more sometimes sooner.
I will let you bother me after 30 minutes.
Time to go home and prepare for battle with manager tomorrow.
Well, sometimes I win, and at other times, you lose!
I will now allow you to take a sigh of relief before I come back again with another problem!
Thanks for letting me know how good you are!
Thanks for showing me that I am not foolish.
I will allow you to take some rest before you can take on another challenge i.e. the Boss!
Funny Sayings for Temporary Goodbye
You are now dead to me for the next 24 hours.
I am going home before I faint here talking to you.
Time to attend wifey. Let me go home and meet you tomorrow alive.
Lets drag our asses to our houses now.
A man never knows how to say a good bye and a woman never knows when to say it.
Are you getting paid for talking to me for so long?
For further talks, let's meet each other in the dreams.
Time to listen my fav. song, which means time to go.
Lets get to know each other even more for the next time!
Thank you for all you have given me in the last few days, which is headache. Lol Kidding!
You have been so much useful. Now let me reciprocate the favour by saying good bye to meet later.
Now hop on the train going to Exit city.
Gotta bounce now!
Time to show you the path to exit.
Time to make new friends on the pedestrian track.
Now I will have to find a new punching bag. You were a good one for sure.
Funny Phrases for Long-Term GoodBye
Our anger issues will resolve because we won't see each other's face for a long time.
I hope it will be nice to see you again.
I tend to think good of you when you are away from my sight.
I am betting that you will weep tonight for sure.
I couldn't have asked for anyone more annoying than you.
You will be relieved isn't to say me goodbye isn't it?
You bore me well for so many years. Its now time to feel relax but only for few months.
Funny Rhyming Ways to say Goodbye
There is no doubt, that I love you more than kicking your ass,
And I know, you enjoy staring yourself into the glass!
The Long distance too between us will surpass,
And I am sure that your anger for me will byepass onto another **s.
You have given so much high,
and you are more than a perfect guy!
May the blessings from the divine always be supplied
But until next time, its now to say Good Bye until!
Funny see you later quotes
I will see you later when you are off-guard. Good Bye!
Kick your ass now or see you later? What do you prefer?
My mood swings are about to arrive. Time to say "See you Later" as a precaution for your mental well-being.
Stay out of danger until I return. See you later!
I wanted to say **** off but then I thought to say see you later instead.
See you later in my dreams. Good night!
Breathe till the time until I come back and whoop your ***.
I would see you later or else I will burst out laughing at you.