It can be easy to forget about our ex-teachers. Little do we realize that our present attitudes and beliefs have largely been shaped by them. It is rightly said that no good deeds should be forgotten. And therefore, remembering your ex-teachers on their birthday is a way to pay them gratitude for helping you in not only your academic area but also for making you a better human being. If today is the birthday of your ex teacher, we have plenty of birthday wishes for them in this post.
It has been hard to find a teacher as good as you. We all students miss you very much. Happy birthday Mam!
They say that everone has a turning point in their life. Mine definitely came when you took over as our teacher! Ever since then, I have never looked back, courtesy of you!
Thank you for teaching me how to stand up for myself.
When God was designing you, he surely took a lot of time and instilled all the good qualities.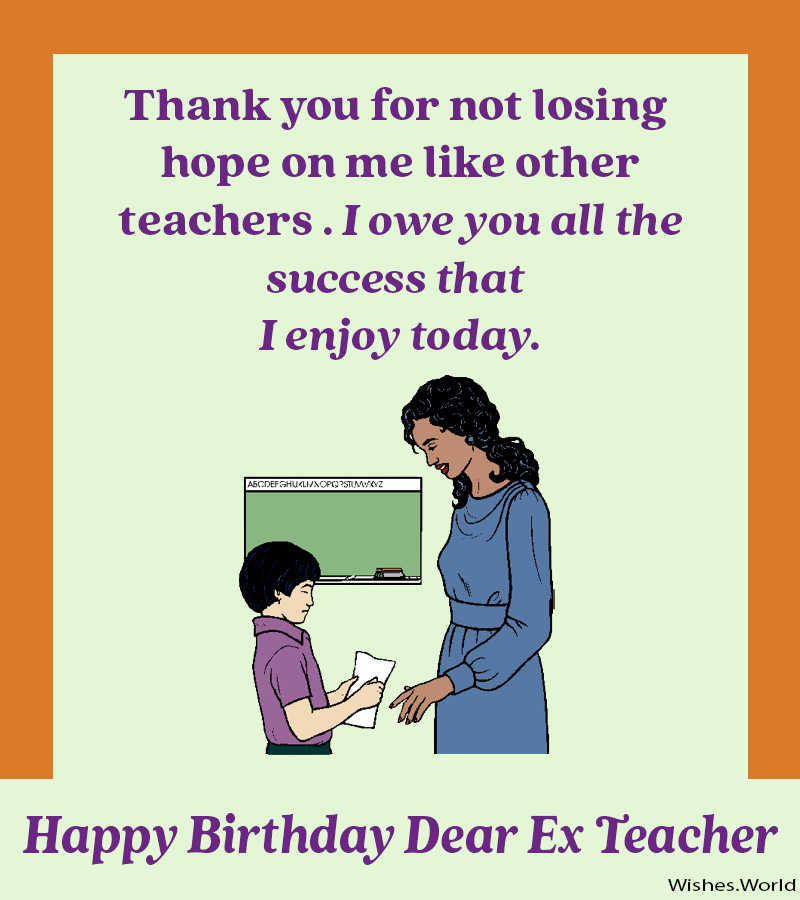 Thank you for not losing hope on me like other teachers. I owe you all the success that I enjoy today.
You knew me more than I knew myself. A true hallmark of a great teacher. The world would be thriving, kind and honest if there would be more teachers like you.
If I could ask anything from the God, it would only be the best of all for you. May the Almighty bless you and your family with unlimited health, happiness and wealth. A very Happy Birthday to our former teacher!
If the subject ever need an ambassador, there couldn't have been anyone better than you.
You are the perfect catalyst who influenced every aspect of my life for the good.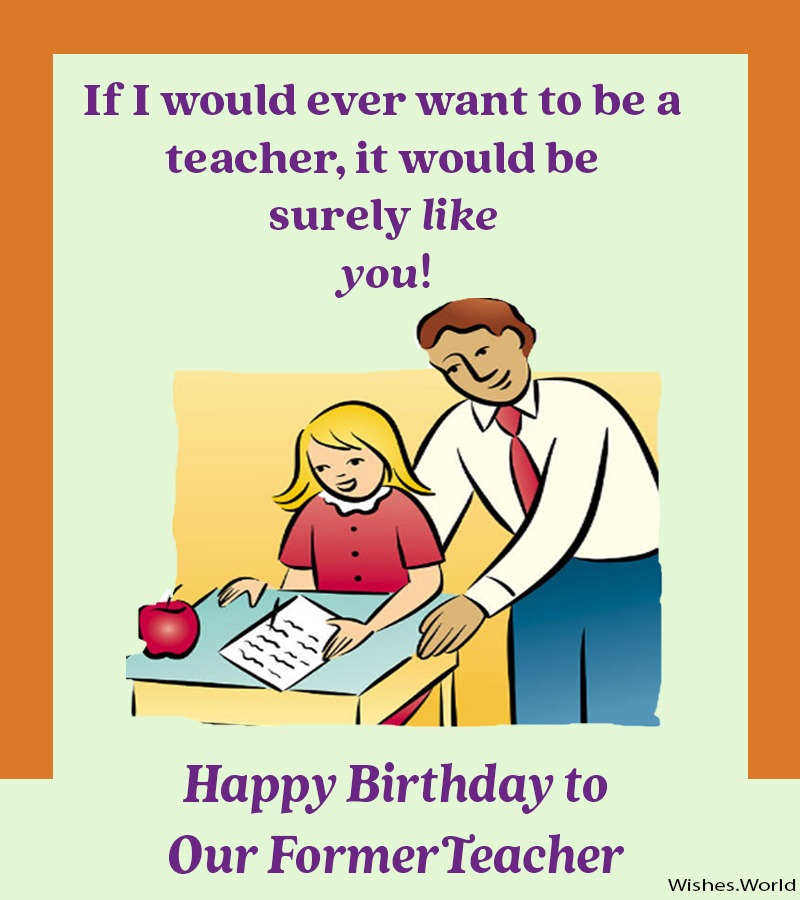 If I would ever want to be a teacher, it would be surely like you!
My agony with the subject would have been a lot worse if you wouldn't have came across as the teacher. Thank you for improving my academic performance.
Everytime you taught us, I would always pray that you always stayed with our University. Unfortunately, God didn't listen to us. As they say, all good things do come to an end. But I am happy that I got to be your student. Happy Birthday to our former teacher.
There are not many birthdays I remember. Your's is the one I make sure to never forget. Thank you for shaping my life.
I surely did some good deeds in my previous life which is why I had a teacher like you.
You are the perfect role model of good teacher!
The students who you currently teach, are extremely lucky!
You were not only a teacher but also a mentor and guide.
Thank you for making me believe in myself. Loads of wishes for your next venture dear ex-teacher.
You may not be my current teacher but your teachings and valuable lessons will always stay with me. Happy Birthday to the former teacher!
You are one of the few people who has impacted my life for the good. I wish all students get a teacher like you.
Back when you used to scold me, I used to be angry. But now I realize that you propelled me to my potential and I will always be grateful of that! Happy Birthday to my ex teacher!
Every teacher I meet, I always tell them about you!
Your passion for the subject was always admirable. I wish there be more teachers like you.
Dear Ex-teacher, I may not be your student anymore but I will always remember you as one of the best teachers of my life.
Funny Wishes for Ex Teacher's Birthday
I admire you for shaping the life of a child who was stubborn, arrogant and what not. Thank you for everything that you did for me! It will never be forgotten.
Not only me but even my Dad was afraid whenever there was parent's teacher meet.
Seeing you teach, my parents also wished that they had a teacher like you.
It takes a genius to simplify complicated things and I am glad that I became that under your tutelage.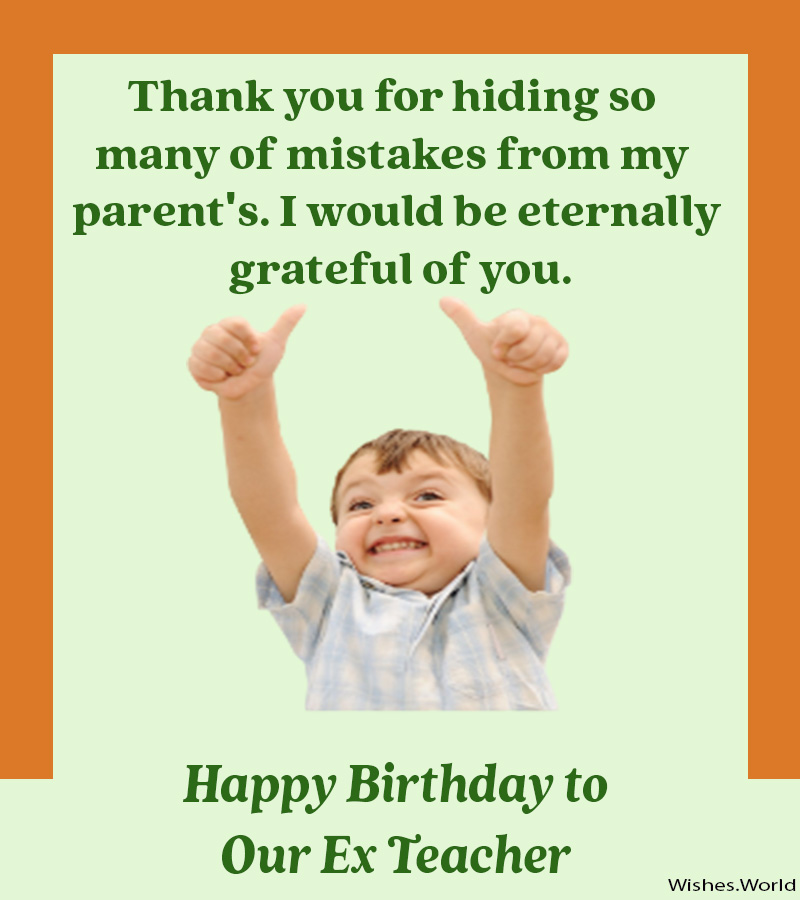 Thank you for hiding so many of mistakes from my parent's. I would be eternally grateful of you.
I am jealous of your kids who gets to be taught by you.
It is only after you came on as the teacher that I stopped sleeping in class.
You made my fearless in dealing with uncomfortable situations. Now I retaliate easily to my notorious cousins. I sincerely thank you for that.
You had been more cooperative than my parent's. I will never ever forget that.
You were a great teacher but you would always be known for being ageless and charming.
You were the only teacher who I preferred getting scolded by.
It takes a very special teacher to tame a stubborn student like me. Thank you for guiding me on the right path.
No matter how many times you scolded me for wrong reason, I have always forgiven you! Happy Birthday former teacher!
I thought that the subject was interesting. But later I realized, it was the teacher who made it such.
May the University where you are currently, keep you for 7 lifetimes with 100% increment every year.
Some things in life are the blessings of the divine, like you got a bright student like me to teach.
Your scare was much real than my parent's combined.
Ex Teacher Birthday Rhyming Words!
Some things in life are hard to come by,
It made some of us even cry.
But as they say, God works in unexpected ways,
And then you came along, and everything started going great!
Happy Birthday to our former Teacher! May all your dreams come true, like mine has, because of you!
A wise man had once said,
Where there is a will, there is always a way!
But Legends have said,
When a good teacher arrives, Life do find its way!
A good friend enlivens the spirit,
Good parents builds up the Character,
But a good teacher, shows the right path!
A very happy birthday to our Ex teacher!