It is no secret that dirty talks spice up the relationship. Every relationship has a tendency to lose its spark if partners aren't willing to put that extra effort. One of the best ways to maintain the spark is to wish dirty good night messages for him. Whether it is for your boyfriend or husband, displaying your wild side through dirty erotic talks would certainly raise his heartbeat and other things also.
Every man craves for sexy erotic messages from his partner. Care has to be taken that such texts are not totally explicit but leave some room for imagination. Doing that so can be extremely difficult at the needed hour which is why we have prepared this post with plenty of sexy good night messages for him that will make his imagination run really wild. So lets get started.
Sleep fast my love! Because I am dying to come into your dreams and let you do all the dirty things to me that you want! Good Night!
Guess what am wearing tonight? Nothing!!!!
I pray to God that may you be hard as a diamond from below the waist and as soft as the pilliow from above the waist.
Take your time and be fully rested because the next time we meet, my intention is to fully exhaust you! Good Night and SD
You are the only person who has brought out my dirty wild side and I wish it always stays the same.
Nothing makes me more feminine than your masculine touch! I hope we meet soon. Good Night!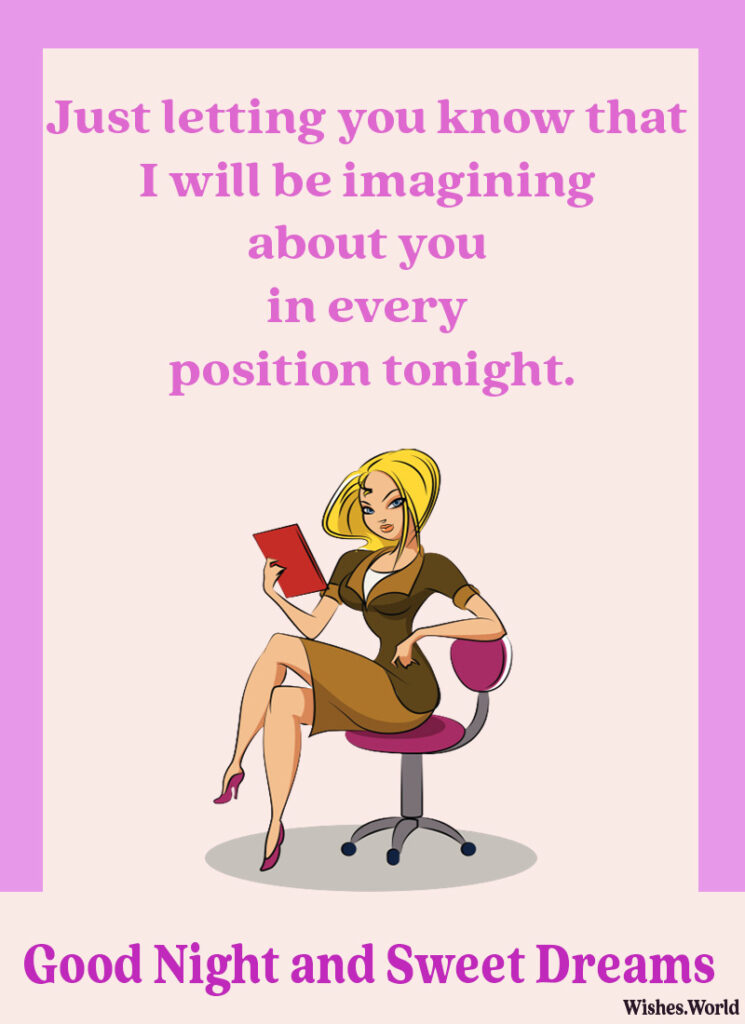 Just letting you know that I will be imagining about you in every position tonight.
Lying on the bed, I realized that we definitely need a strong, sturdy bed that can withstand our forces. What do you say?
Your sexy talks make my mind dirty and I enjoy every bit of it! Good Night Sweet heart!
No scent is as good in the world as your's and mine combined from all the hard work on the bed.
When the divine was making you, he took a lot of time and consideration.on your sensual lips, those mesmerizing eyes and that beautiful nose and I want to appreciate all those with my dirty naughty actions when we meet next time.
When you are coming back, I am gonna jump straight onto you! Good Night!
Nothing could be more erotic than you lying naked on my body.
If there would be a synonym about you, it would be called pleasure!
You have polluted my mind with dirty thoughts and I want you to do it even more.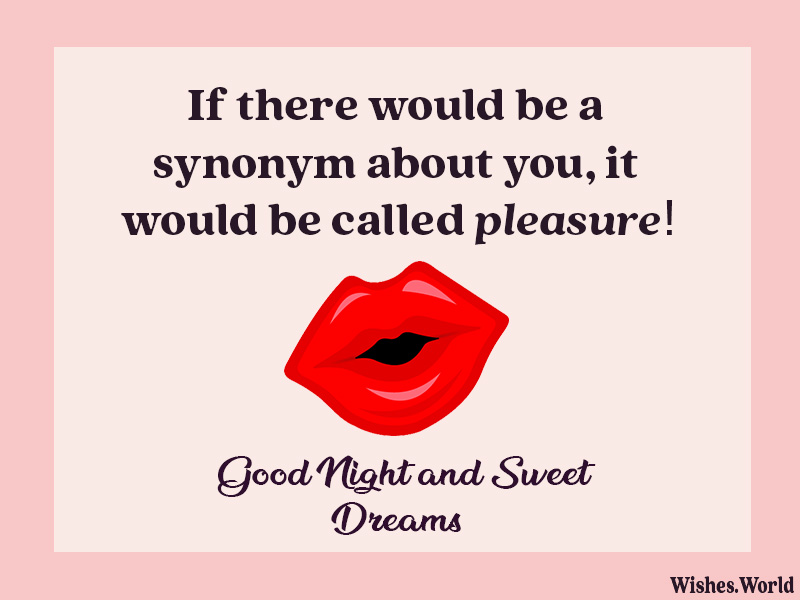 If you were here, we wouldn't be getting any sleep for sure! A very naughty good night my love!
Just wanted to let you know that my heart and soul is well prepared for two continuous nights of …….listening to your snoring!
My nails are dying to leave marks your back!
Not only good at heart, but you are good at so many places and I adore every one of them. Good Night My Love!
There is no air conditioner in the world that would keep us cool when the two of us are on bed together!
My sleeping pills are a history, courtesy of the Big Os you have given me that makes me sleep like a baby. Let us meet soon and merge our souls like no tomorrow. Good Night and Sweet dreams my love!
Know that you will be in my thought all throughout the night and the sheets would be soaking wet when I will wake up in the morning.
I am sleeping tightly hugged with the pillow, imagining that it is you. Sweet Dreams sweetheart!
You may not be here but the sheets gives smell of you.
Lubes are unnecessary especially when a woman has a handsome and charming partner like you.
Every cell of my being wants to worship the part of your body that makes my eyes rolling if you know what I mean.
My love! You have all the unlimited access to explore ever inch of my body!
Dirty & Naughty Good Night Message for Him
The next time we will meet, I will make sure that you are the luckiest guy in the Universe. Good Night My Love!
Every part of my being comes alive whenever I hear your voice or see your face. Gn and Sweet Dreams!
Even when you are asleep, you are gorgeous and extremely inviting.
I may have lost counts of sleep on you but I still feel energetic and vibrant. Good Night Handsome!
Your charm and charisma makes me do all the dirty things in bed which I never would have done before. I wish all the women in the world gets a man like you.
My favourite bed time routine involves imagining you, me and no clothes. Love to the moon and back! Have a good night!
Every night I pray to God that may your back muscles remain strong and sturdy like that of an ox for reasons that are well-known to you!
I know you are having trouble sleeping tonight darling because you are imagining all the naughty dirty things that you are going to do on me next time and I can't wait for it.
I am sleeping with the pillow right between my legs and I am imagining it is you! Good night!
I will always love you more than my body could ever express!
The next time you are coming back, I am not letting you go without a full day hug.
Thinking about you gives me dirty thoughts and I cannot get enough of them.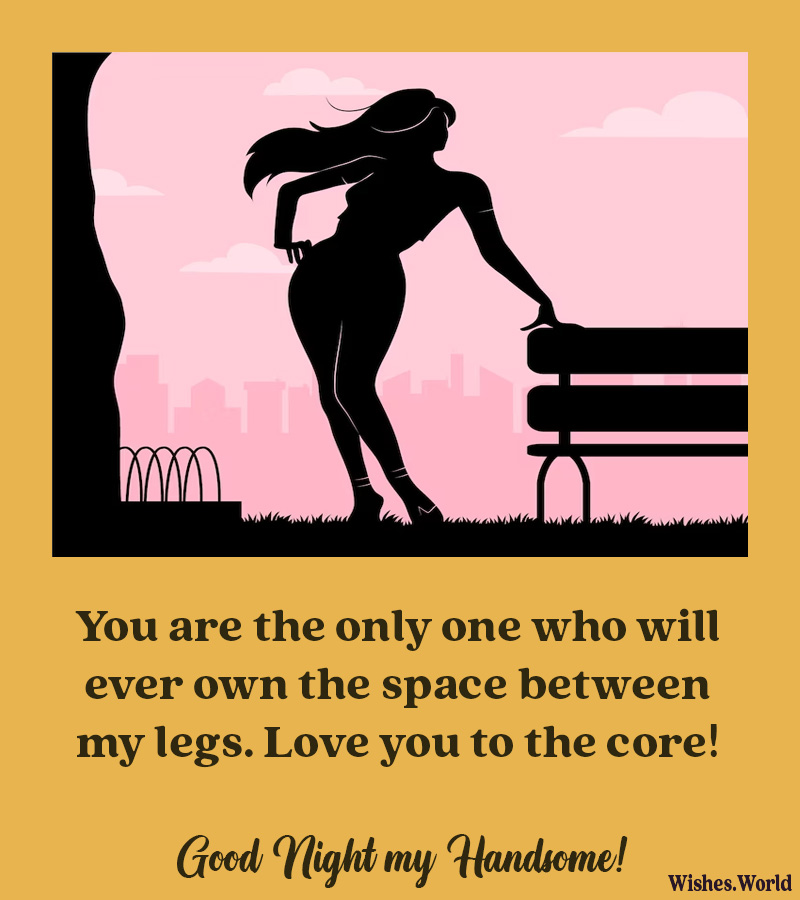 You are the only one who will ever own the space between my legs. Love you to the core! Good Night my rugged guy!
If I could keep on looking something without blinking, it would be your eyes, and your lips and then run my dirty imagination.
Some things in life will always be hard and that's the beauty of it!
Apart from my heart, who else is yearning for you? My Ovaries!!!!
How to say Good Night Seductively?
The best way to write seductive GN messages is to express some dirty thought that also leaves room for some imagination for your partner. For e.g. We may have had a euphoria last time but we have plenty of unfinished things to do on the bed. Good Night Dear!