Chemistry is one of the important elements of life. Needless to say, Chemistry teachers play an important role in our lives as they are the front-liners to invoke the interest in the student which compels some of them to purse the subject at higher level and contribute to the well-fare of the society. Therefore, we believe that special birthday wishes should be given for Chemistry teachers and therefore we have crafted plenty of them in this post.
Creative ways can be used to wish your Chemistry Teacher on their birthday. That will surely make your birthday message stand out and lively too. We have prepared lots of such wishes for Chemistry Teacher birthday in this post.
I have now also learned to repel certain people just like Ions, electrons and protons do.
Did you know that the word Omg arrived after Oxygen and Magnesium started dating everywhere.
You have given me a serious addiction. It is called ChemistryGasm.
Every molecule of my body is stable for not only Chemistry but also for other subjects, courtesy of a wonderful teacher like you.
If the subject of Chemistry ever need an ambassador, you would be the perfect one.
May you write a book on Chemistry and earn millions of dollars from it!
God defied laws of Chemistry when he was preparing you as you have an incredible appetite for this subject. Happy Birthday to an awesome teacher.
Birthday Wishes in Chemistry Language
May the God of Chemistry bless you with infinite serotonin throughout your life.
Chemistry made me realize that I lose my energy and become unstable whenever I talk with my cousins.
Not only us students, even the atoms, molecules and compounds fear you too and can become stable at your command.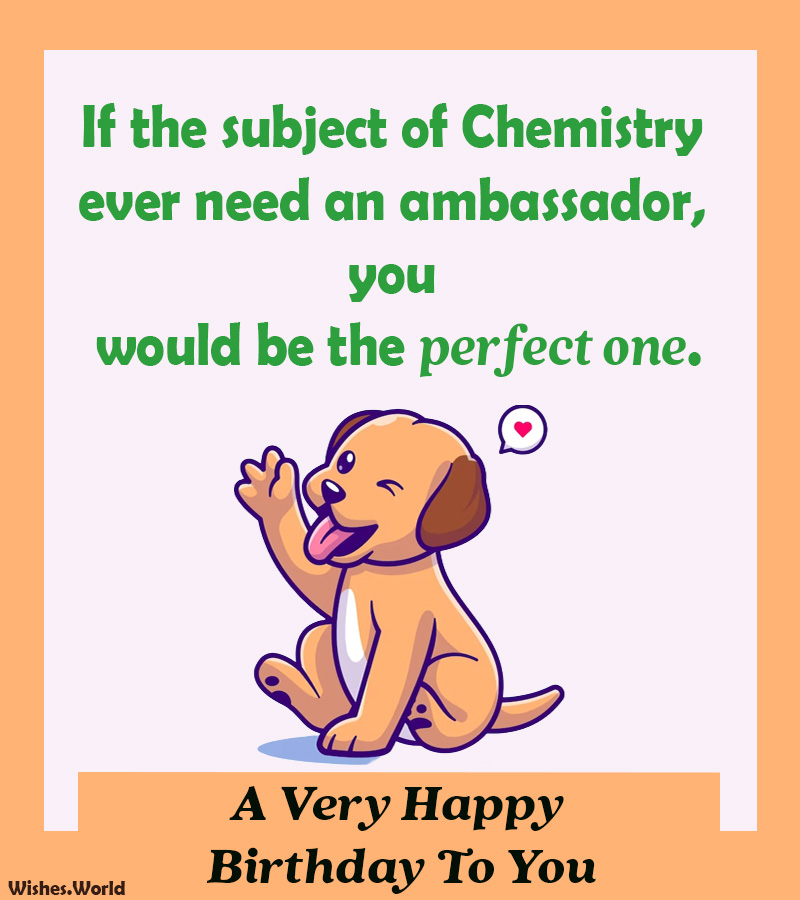 You are the perfect catalyst for any student not just for Chemistry but for growth in all spheres of life. I thank the Lord for having a Chemistry teacher like you.
It is uncommon for me to send Chemistry related birthday messages but I definitely do it periodically.
Seeing your passion and knowledge of Chemistry, I am pretty sure that you started studying the subject in the womb itself. Jokes apart, a very happy birthday to you!
I believe in your good genetics but you certainly have formulated some kind of chemical solution to keep you young forever.
I now have formed irrestible bonds with some of the nicest people because my wavelengths and chemistry match with them. Much thanks to all your teaching.
May the equations of your life be always balanced.
Simple Birthday Messages for Chemistry Teacher
You are unofficially the best Professor of our college. May your bond with this college remains alive for ever.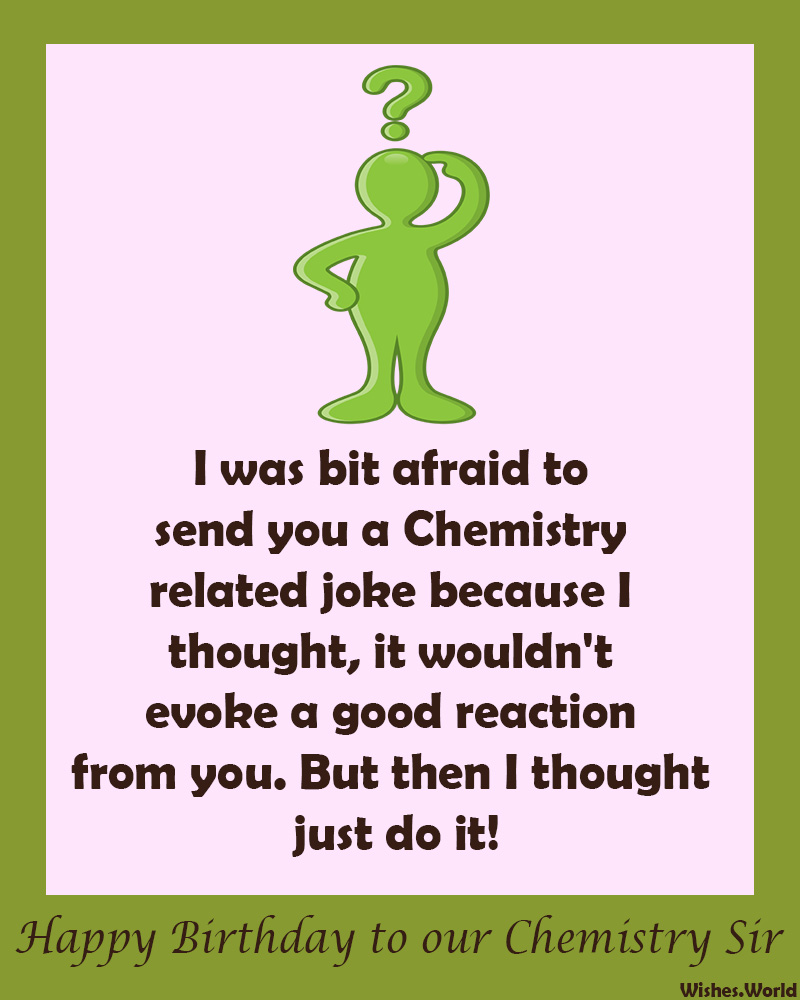 I was bit afraid to send you a Chemistry related joke because I thought, it wouldn't evoke a good reaction from you. But then I thought just do it!
Few people in life deserve extra gratitude and thank yous. Dear Sir, you are certainly one of them.
You are the perfect periodic table listed with all the good qualities that any teacher can have.
You are my Bunsen Burner whose flame invoked my interest into Chemistry.
If compounds ever need a role model to remain stable, you would be the perfect one as you are the most stable human being I have ever seen. Happy Birthday Sir!
I pray to the Lord that the chemical reactions throughout the body always remain at optimum level.
Thank you for invoking my interest in Chemistry.
Seeing you teach Chemistry, my parents wishes that they too had a Chemistry teacher like you.
Funny Birthday Wishes for Chemistry Teacher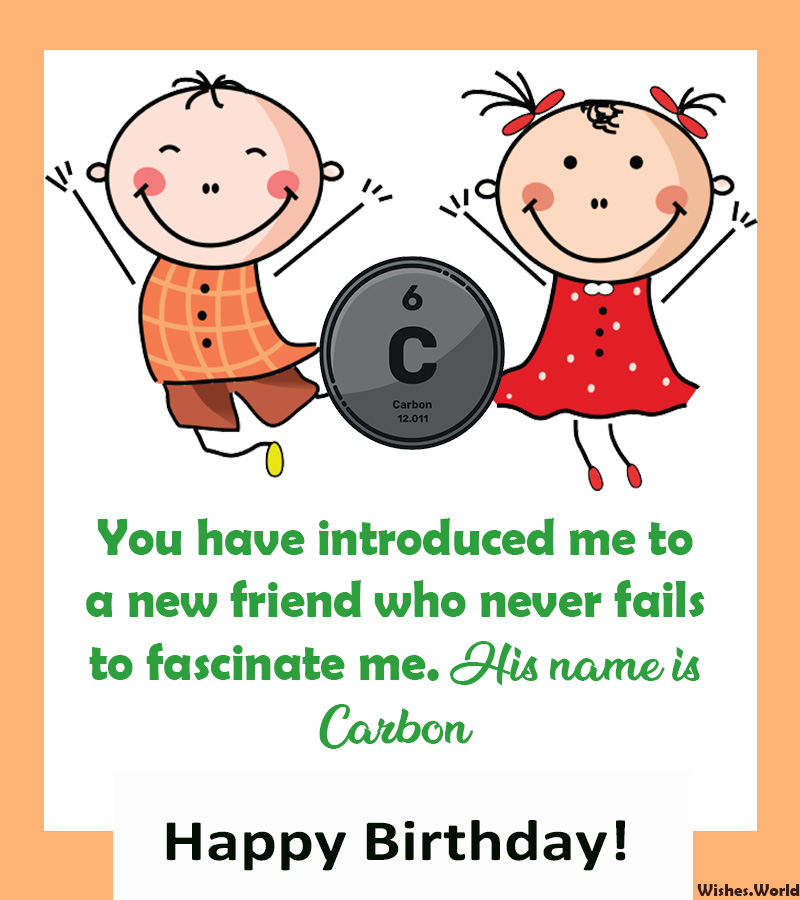 You have introduced me to a new friend who never fails to fascinate me. His name is Carbon.
You are the Walter White of our University for the good reasons only.
After football, the Chemistry lab is the place I look forward to everyday.
Charm and charismatic. Scoldingless, criticismless at parent's teacher's meet. What more a student wants. Happy Birthday Sir!
You always give your heart and soul for teaching the subject. Please allow me to do the same to teach you how to party on the birthday.
Since it is your birthday, we all students believe that you deserve a nice break for atleast one week.
Of all the teachers in the University, I always prefer to be scolded by you in Chemistry terms.
I wish that you live upto 100 years of life to teach this wonderful subject.
As much as my interest and performance has risen sharply in Chemistry, I would still make a request on your birthday that you prepare an easier paper for the next semester.
I request the University to retain a Professor like you for 7 lifetimes.
After understanding Chemistry, I now understand that its good to be explosive at times with certain people.
The subject has taught me how to make anyone frustrated, angry, happy and ecstactic. May every student gets a Chemistry teacher like you.
If all the politicians in the world would have understood Chemistry, they would never take decisions that harms the environment.
If there would be an Oscar for the best chemistry teacher, I am sure that you will surely get Nominated!
May you not get unstable while partying hard tonight. Happy Birthday!
Chemistry has also taught me how to balance the equations with my parents and notorious cousins and I couldn't thank you more. Happy Birthday Mam!
I am so proud of myself that I produce nitrogen and sulfur also even if it is in the form of fart only.
Chemistry has taught me that everything in moderation works best.
What is the best way to wish a Chemistry Teacher?
A good birthday wish is highly relevant to the receiver. If you are looking to wish your Chemistry Professor, then it is important to use a creative mind and include words that are related to the subject of Chemistry. Doing so will make your message stand out. It can be hard to come up though with a nice relevant wish, which is why we have prepared this post and will update it regularly.